The Biggest Game of Thrones Spoiler Just Got Spoiled, Almost
~SPOILERS ABOUND BELOW~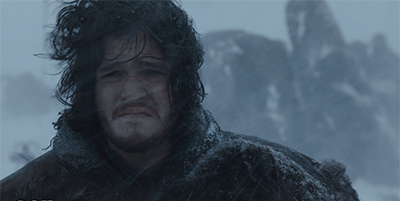 One of the first and original mysteries of Game of Thrones is, Who are Jon Snow's parents? While he goes through much of the show as "Ned Stark's bastard," hints about his parentage are peppered throughout.
With the all-out revelation that Jon Snow is actually a Targaryen, and actually the bastard child of Rhaegar Targaryen and Lyanna Stark, the show's race for the Iron Throne became that much more fraught. But as Sunday's episode "Eastwatch" shows, Jon Snow is actually not a bastard at all — as told by Gilly, Rhaegar had his marriage to Elia Martell annulled, making Jon Snow not just a Targaryen, but a legitimate contender for the Iron Throne, with as much cause as Daenerys to claim it.
On top of this revelation, Sunday's episode also brought Jon Snow in contact with Dany's dragon troupe, and they not only didn't kill him, Drogon actually let Jon touch him.
It's official…
Jon Snow = Jon Targaryen#GameOfThrones pic.twitter.com/Wyi03VYt1S

— Angela Belcamino (@AngelaBelcamino) August 14, 2017
If that doesn't totally signal the man's Targaryen legitimacy, what else can?
Naturally, the GOT-watching part of the internet took all of this new information totally in stride. Kidding, everybody freaked out:
Jon and Drogon:#GameOfThrones #ThronesYall pic.twitter.com/8pYWmGonit

— Denizcan Targaryen (@MrFilmkritik) August 14, 2017
Gilly confirms DECADES of fan speculation with one line of dialogue. They were married. JON SNOW IS THE HEIR TO THE IRON THRONE.#GoTS7

— Motels on Mars (@motelsonmars) August 14, 2017
#JonSnow that dragon knows he's Targaryan. #GameOfThrones pic.twitter.com/l83mrjXFxc

— Lyn (@Lynsonya69) August 14, 2017
Drogon: lets Jon pet him
Dany: #ThronesYall #GameOfThrones pic.twitter.com/OHNLOBGJu6

— Anna Blackwell (@AnnaH_Blackwell) August 14, 2017
Rhaegar??got??an??annulment??with??Elia??and??married??Lyanna?????? Jon Snow is KING!!!!!!!!!!! #GameOfThrones #ThronesYall pic.twitter.com/xqOjK8PyZ4

— CORAL Del Rey (@crubez) August 14, 2017
Rhaegar secretly married Lyanna = Jon Snow is a trueborn Targaryen & rightful heir to the Iron Throne ? Gilly is a genius #GamesOfThrones pic.twitter.com/a2qQvxusMc

— Esko Let's Go! (@eskoletsgo) August 14, 2017
Gilly just talked about Rhaegar being secretly remarried. To Ned's sister. That makes Jon Snow a true Targaryen#GameOfThrones #ThronesYall

— Zak Kincaid (@zakkincaid) August 14, 2017
Drogon was like to Jon Snow

"You a Targaryen aren't ya" #GameOfThrones pic.twitter.com/lQ572xY9r5

— John Apostrophe (@Imjustaff) August 14, 2017
Jon Snow. AKA: Mr Ima steal yo' dragon. #GameOfThronesS7 #gameofthrones #ThronesYall pic.twitter.com/Sftjq0AWZr

— Daria Knight (@wild_honey13) August 14, 2017
Daenerys when she sees Drogon likes Jon #GameOfThrones pic.twitter.com/lp0Xol29U9

— John (@JGor492) August 14, 2017
When he touches your dragon #GameofThrones pic.twitter.com/HuDaYim1wF

— Tyrion Lannister (@GoT_Tyrion) August 14, 2017
Hey y'all, guess what? Jon Snow still hasn't kneeled. pic.twitter.com/sj9rophFKu

— #JonSnowHiveAryaHive (@PutinistaJonez) August 14, 2017