Game of Thrones' Euron and Jaime Were Spotted Hanging out IRL and the Internet Can't Handle It
Jaime Lannister and Euron Greyjoy are not BFFs on Game of Thrones, mainly because they're both trying to boff the same sister-lady. However, the nemesis characters are played by actor friends, Nikolaj Coster-Waldau and Pilou Asbæk, because acting is an art, and these two are very good at it.
In real life, they're good friends who go out to sporting games together! What bros!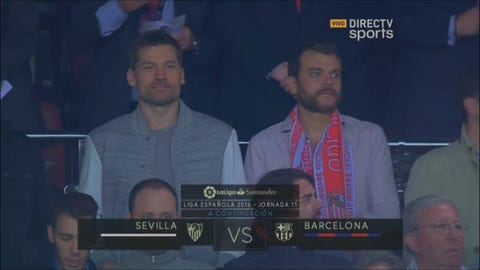 Awww!
Of course, the internet flipped when they saw the two being all adorable together IRL.
Cersei: "Just go to the game and talk with him. I'm sure you have something in common."

Jamie: "Well, actually, funny thing about that…" pic.twitter.com/f6oFVvs6kA

— Matt Mullin (@matt_mullin) August 3, 2017
Cersei doing her best to ensure Jaime and Euron get along better…#FridayFeeling #GameOfThrones pic.twitter.com/qmGp3UXqRm

— NOW TV (@NOWTV) August 4, 2017
When your sister forces you to spend time with her new boyfriend: pic.twitter.com/sKCUQjRk9X

— Ben Soffer (@boywithnojob_) August 3, 2017
When Euron realised that Jaime is looking good and now has 2 good hands too. pic.twitter.com/NioyGPxJff

— Akram ?? (@akramismm) August 4, 2017
Also see:  A NEW GAME OF THRONES CLIP SHOWS ARYA IN A SURPRISING SWORDFIGHT