Turning pro – 2003
Djokovic turned professional in 2003, when he was still a teenager. He went onto make his first Grand Slam appearance at the Australian Open in 2005 – aged 17 – and lost in the first round to eventual champion Marat Safin.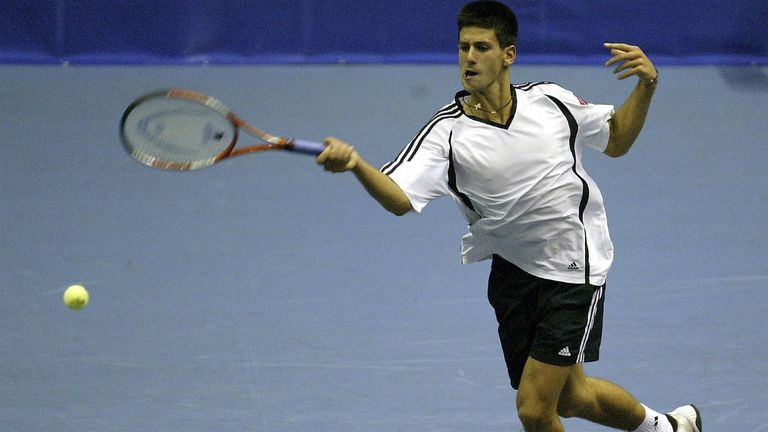 Tennis friends
Djokovic teamed up with his good friend Andy Murray for the men's doubles at the 2006 Australian Open – the duo were knocked out in the first round.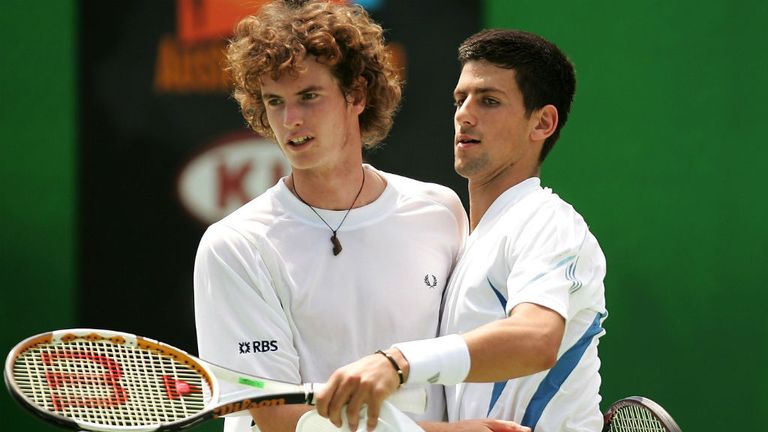 First ATP title – 2006
The Serb celebrated winning his first ATP title at the Dutch Open in Amersfoort with an iPod and some flowers.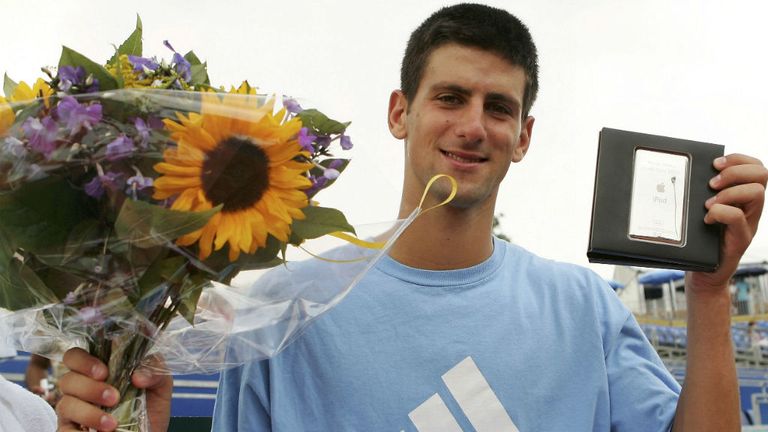 Fashion calls
As the titles came, so were demands for more promotional shoots – like this one in Monte Carlo…
…and this fashion show which was part of the Rogers Cup Tennis Tournament.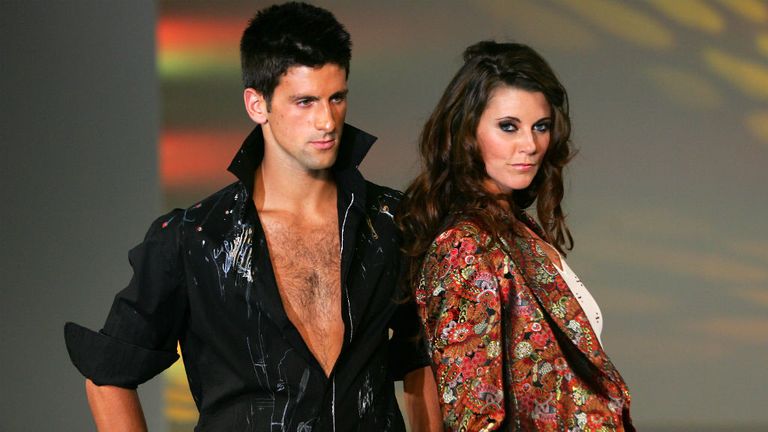 First Grand Slam – 2008
Djokovic beat Jo-Wilfried Tsonga to earn his first Grand Slam singles title at the 2008 Australian Open.
Worth the wait – 2011
The Serb had to wait until 2011 before lifting his second major title in Melbourne – having reached just one final in the meantime (US Open 2010) – where he handed Andy Murray his third Grand Slam final defeat.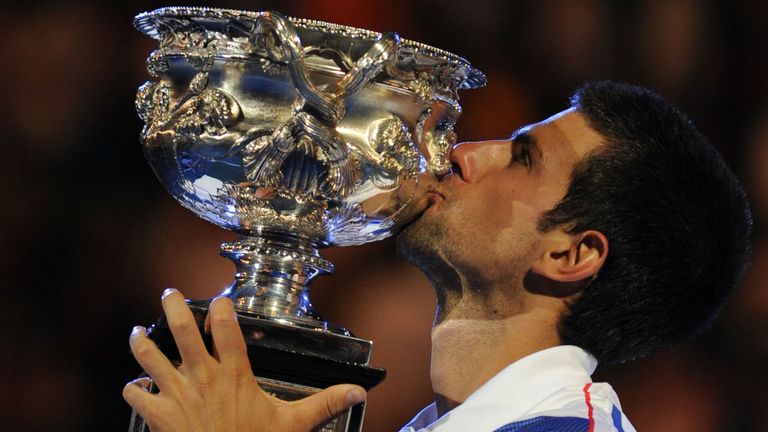 First Wimbledon – 2011
In the summer, he landed his first Wimbledon title after downing defending champion Rafael Nadal. It was a victory which also saw Djokovic become the world No 1.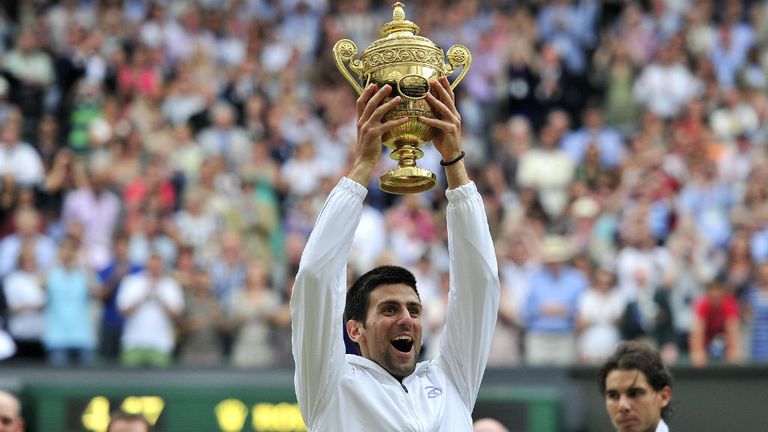 Three from four – 2011
Top seed Djokovic made it a year to remember after securing the US Open to claim three of the four Grand Slams.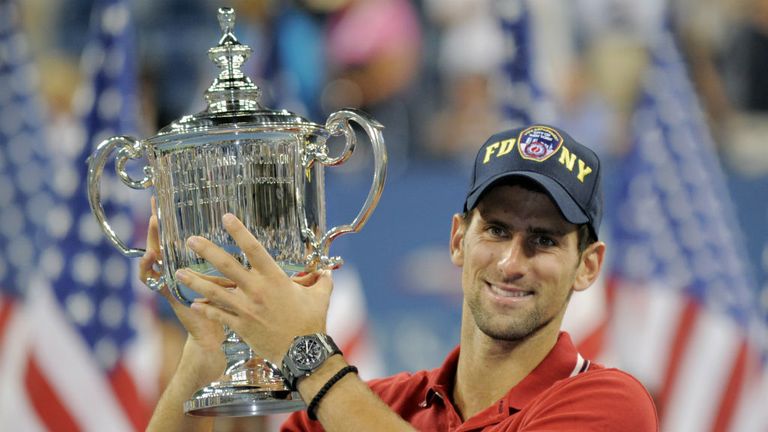 Third in Oz – 2012
The man known as the 'Serbinator' was destroying all in his path and he earned yet more success Down Under in 2012 – but he would go on to lose in both the French Open and US Open final.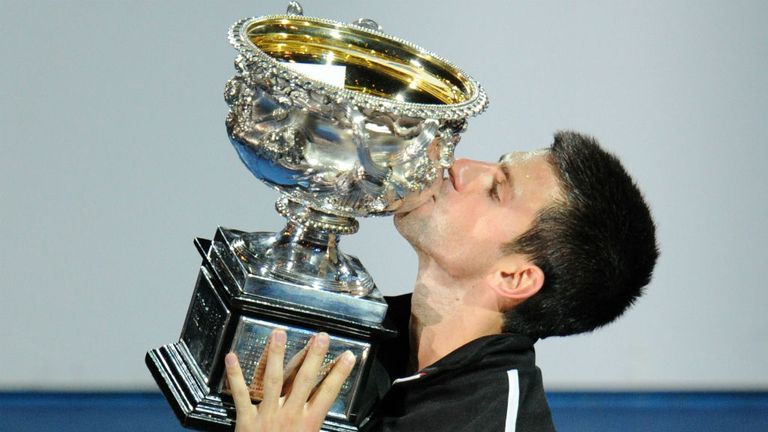 Three in a row – 2013
Djokovic returned to winning ways Down Under, winning a third Australian Open in a row after beating Murray, once more, in the final.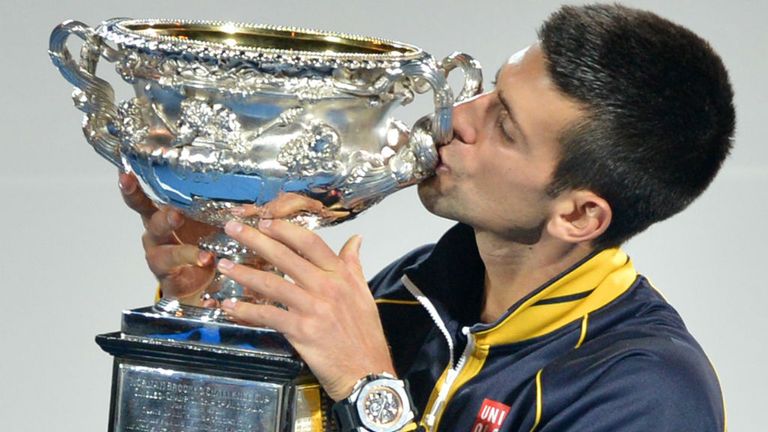 Pain in Paris – 2014
The Serb lost both the Wimdledon and US Open final in 2013, and after a quarter-final exit in the 2014 Australian Open, he was once again beaten by Nadal – dubbed the 'King of Clay' – at Roland Garros.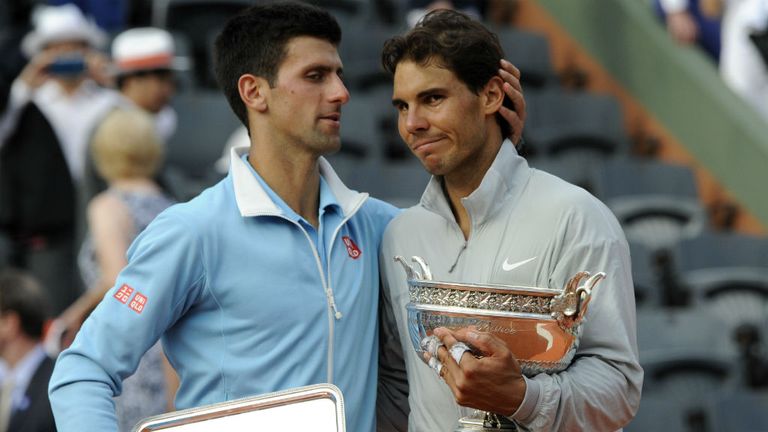 Better with Becker – 2014
Having lost his previous three major finals, Djokovic hired Boris Becker, and walked away with his second Wimbledon title to ease the pain of his French Open defeat.
Five Down Under – 2015
Djokovic became a five-time Australian Open champion and an eight-time Grand Slam winner after beating Andy Murray in the final.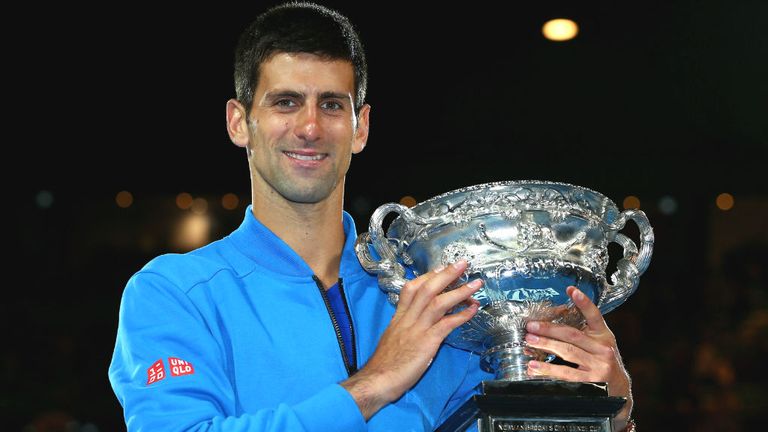 Third Wimbledon – 2015
After losing out in the French Open final – this time to Stan Wawinka – he returned to Wimbledon to claim his third title and ninth Grand Slam crown by beating Roger Federer.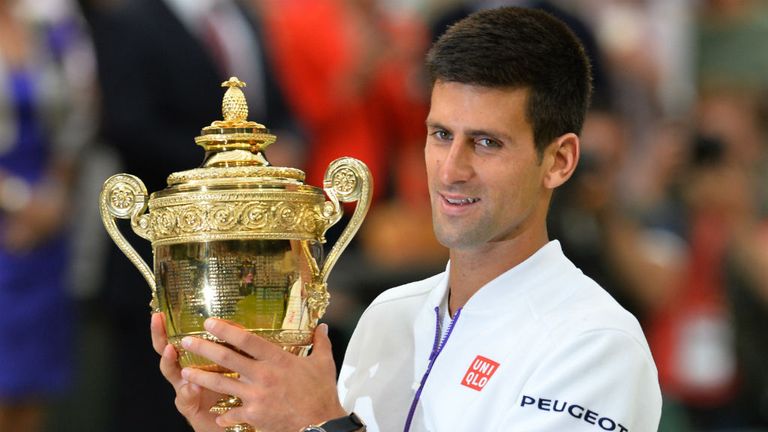 US glory – 2015
Djokovic celebrated his second US Open title and 10th major after defeating Federer once again at the US Open.
Grand Slam No 11 – 2016
Djokovic holds the Norman Brookes Challenge Cup for a sixth time after beating Murray to win in Australia.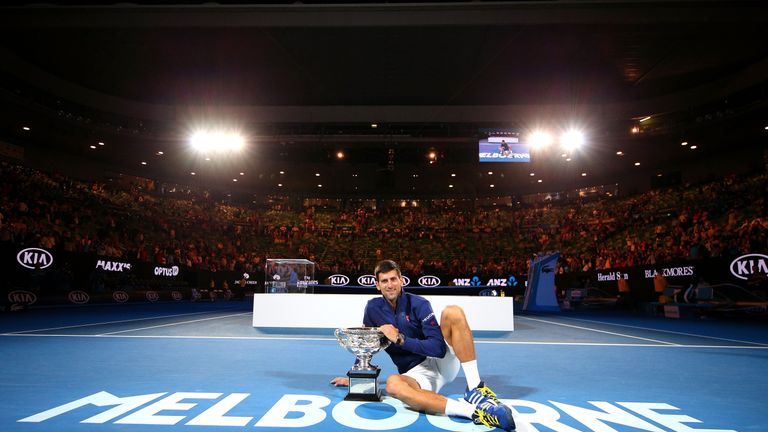 Career Grand Slam – 2016
He finally ended his wait for a Roland Garros title by beating Murray – it also meant he was the holder of all four Grand Slams at the same time.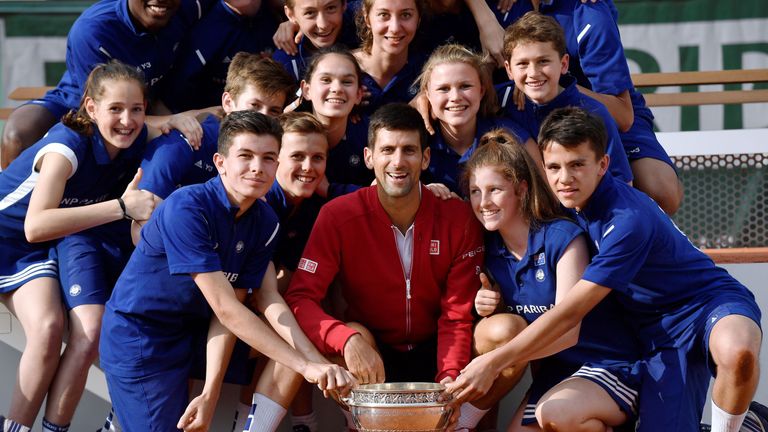 World No 1 no more – 2016
The 12-time Grand Slam winner was knocked out in the third round of Wimbledon by Sam Querrey, before losing to Stan Wawrinka in the US Open final.
A strong second-half to the year saw Murray loosen Djokovic's grip on the No 1 status, and the Brit usurped his good friend when beating him in their ATP World Tour Finals showdown in London.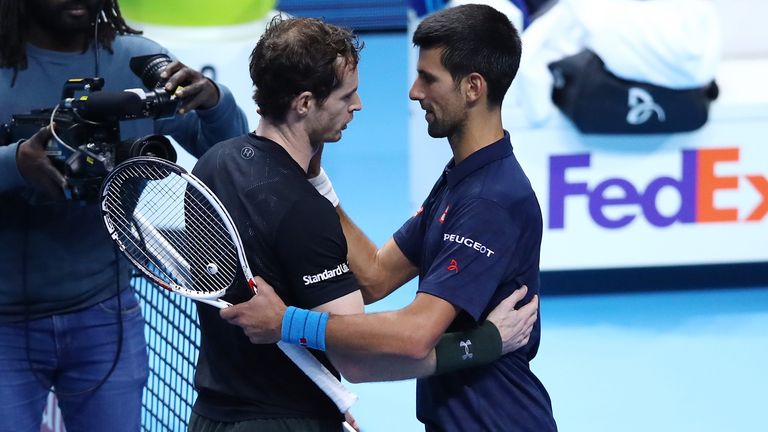 Novak's struggles – 2017
Djokovic has struggled to recapture the form that saw him complete a career Grand Slam just a before. The Serb sacked his entire coaching team in a 'shock therapy' tactic in May, following a second round exit in the Australian Open and quarter-final defeat to David Goffin at the Monte Carlo Masters.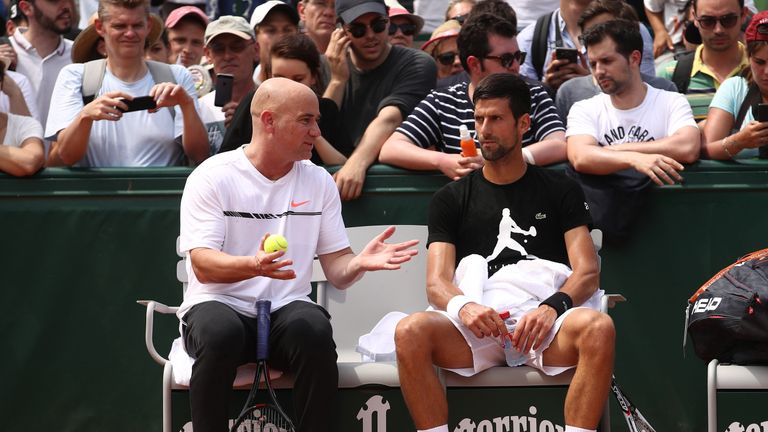 Eight-time Grand Slam champion Andre Agassi entered the fray to help Djokovic – who turned 30 later in May – but the American was powerless to prevent the Serb from losing in the French Open quarter-final to Dominic Thiem, then the Wimbledon quarter-finals to Tomas Berdych.