Sky Sports Fantasy Football have provided us with their projected valuations based on how they would price players if they moved to England.
Harry Kane is currently Fantasy Football's most expensive player at £12.9m but he would be trumped by four global superstars, including PSG's £196m target Neymar.
The Tottenham striker would still cost more than Kylian Mbappe, who has been linked with a £161m move to Real Madrid.
Based on statistical performance in relation to the Sky Sports Fantasy Football points scoring system plus their Premier League experience, here's how the world's highest rated players would be valued…
Kylian Mbappe – Monaco (£12.2m)
Linked with a world-record move to Real Madrid, Mbappe has also attracted interest from Manchester City and Arsenal.
If he moved to England, the France international would immediately crack the top five most expensive Fantasy Football forwards.
The most prolific teenager across Europe's top five leagues last season, Mbappe would cost £0.4m more than compatriot Alexandre Lacazette.
That's despite the former Lyon man being involved in a goal every 88 minutes, compared to Mbappe's 101.
Alvaro Morata (£12.2m) and Harry Kane (£12.9m) also registered better minutes-per-goal averages, but 18-year-old Mbappe would bring an unrivalled minutes per goal/assist ratio – scoring or providing an assist every 66 minutes.
Neymar – Barcelona (£13m)
Neymar is also being linked with a record-breaking move this summer and a projected Fantasy Football value of £13m would make him the most expensive in the game – a shade ahead of Kane at £12.9m.
Kane out-scored Neymar last season, but the Brazil forward was one of only eight players in Europe's top five leagues to hit double figures for goals and assists – something only managed in the Premier League by Alexis Sanchez (£12.7m).
Neymar also completed the most dribbles (166) across the five leagues and hit the top 10 for chances created – stats that suggest he would be one of the game's top scorers.
Cristiano Ronaldo – Real Madrid (£13.3m)
It's no surprise that Ronaldo would be Sky Sports Fantasy Football's most expensive player if Manchester United were to complete a sensational swoop for his services – having the highest projected value of all global superstars.
Injuries last season meant the four-time Ballon d'Or winner had his worst scoring season since 2009/10, but his 25-goal haul was still the third best in La Liga and would have put him behind only Kane in the Premier League.
That return – and his total of six assists – was the same as former Everton man Romelu Lukaku (£12.4m), but Ronaldo registered his in over 700 fewer minutes than the Belgian, justifying his greater price tag.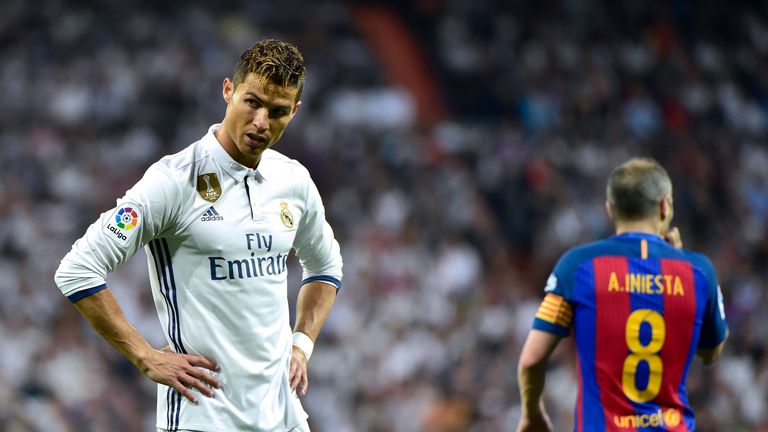 Lionel Messi – Barcelona (£13.3m)
Sky Sports Fantasy Football sits on the fence in the Messi v Ronaldo debate, with the Argentine also priced at £13.3m.
Across Europe's top five leagues, Messi was last year's top scorer (37) and he also registered an unbeatable ratio of 61 minutes per goal or assist.
However, the Argentina star has yet to feature in the Premier League, so Sky Sports Fantasy Football refrains from pricing him higher than Ronaldo.
Luis Suarez – Barcelona (£13.1m)
Luis Suarez would be Sky Sports Fantasy Football's most expensive player if he returned to England.
Like Neymar, Suarez also contributed double figures for goals and assists last season, though his tally of 28 goals and 13 assists was some distance ahead of the Brazilian's 13 and 10.
Having lit up the league in the past, Suarez is a proven Premier League star who would certainly be a popular pick.
Gareth Bale – Real Madrid (£11.9m)
Another proven player in the Premier League, Bale's name is regularly linked with a move to United.
Injuries limited the Wales international to seven goals and two assists last season, but in 2015-16, his 19 goals and 10 assists – from only 23 games – forced Ronaldo to share the Bernabeu limelight.
Having claimed three Champions League winners' medals and a La Liga title since leaving Spurs, Bale would return to the Premier League as the most expensive midfielder, edging Eden Hazard by £0.1m.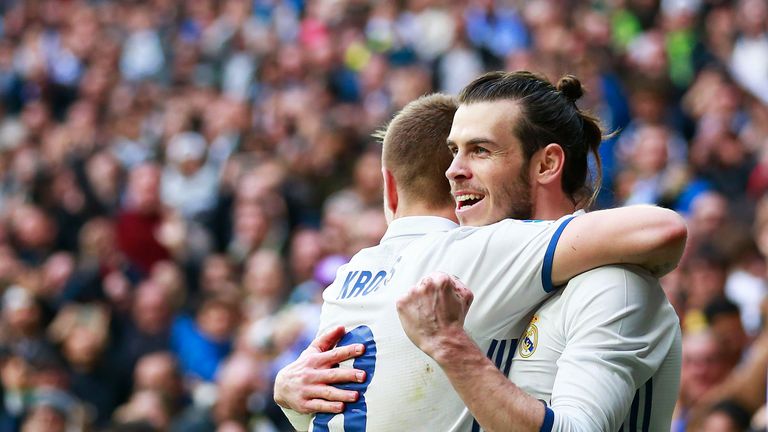 The best of the rest
At the other end of the pitch, Gianluigi Buffon would be Fantasy Football's most expensive goalkeeper if he swapped Italy for England (£8m).
Bayern Munich's Manuel Neuer is the only 'keeper who tops that valuation, with his £8.2m price tag the result of a higher saves-per-goal ratio and more accurate distribution.
Meanwhile, Chelsea's Cesar Azpilicueta (£10.3m) is currently the game's most expensive defender, but that would be eclipsed by Real Madrid's seven-goal centre-back Sergio Ramos (£10.5m) if he entered the game.
That's despite Azpilicueta's far superior defensive stats – committing the least defensive errors, making more interceptions and clearances, winning more headers and winning more than double the number of tackles.
Who will make your team? Draft your side, create and league and invite your mates to play for free here.