1). Ekouaer Women's Long Thermal Underwear Layering Set
The super affordable thermal underwear for women by Ekouaer is the prime manufacturer for unisex layering sets. In fact, this set is equally comfortable for men as well as women. It is an unusual combination of thin yet warm material which would protect you from the cold winter.
It is a double layered long johns thermal set which comes with both top and bottom. Sleeves are mid weights, long and tag less. The leggings are made up of fleeced lining which are competent enough to keep you warm and safe.
The clothing used is warm, soft and completely comfortable to wear all day long. The sizing policy preferred is US size. They are great to wear when hiking, snowboarding, camping, skiing and as pajama at home.
The elastic waist and elastic material does not choke up your skin and let it breath easily. Perfect for both men and women and does not harm the skin at all. This set is perfect for indoor as well as outdoor activities and compatible for machine wash too. The fabric would not deteriorate even after rigorous washing.
Key Features
The material used for this thermal underwear for women is the combination of 95% cotton and 5% Elastane.
Available in colors like black and gray.
Size varies from M to 3XL.
2). FitExtreme MaxHeat Long Johns Thermal Underwear Set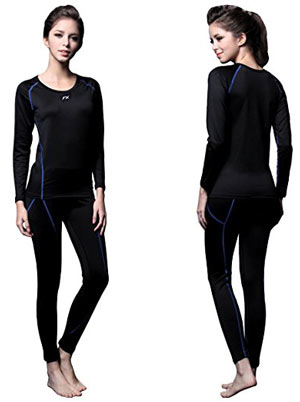 The name of this product says it all. The MaxHeat Long Johns thermal underwear for women by FitExtreme is an exceptionally well example of how to keep your body warm in style. They are super comfortable to wear and their thin clothing would make you feel really good in them.
They do not make you look flab or fat at all. They perfectly fit to your body like a glove and gives a seamless appearance.
This thermal underwear for women is made up of silky soft material with fleece lining that is perfect enough to keep you warm. It works like a blanket over your body without even being noticed.
However, there have been constant issues about sizing. So make sure that you refer to the product image for perfect size. The material is super stretchable and gives you the liberty of full movement.  The good news is that you can buy them separately and that too in different colors and patterns.
FitExtreme is just like its name and would not bother your body even a bit as it gives extreme comfort and warmth to your body.
Key Features
The material used for this thermal underwear set is 93% polyester and 7% Polyurethane.
Gives four-way stretch and complete freedom to move.
Colors like black, gray and navy blue are available by the manufacturer.
3). Liang Rou Women's Tom & Bottom Thin Thermal Underwear Set
The next one that we have on our list is a complete top and bottom thermal underwear for women by Liang Rou. It is a complete set which not only keeps your body warm even in the coldest winters but also gives you a comfortable experience of wearing it.
This is more like separate body suit for your top and bottom parts with a stretchable clothing material. The cloth material is thin and does not make you look like a pumpkin.
You can directly wear it on your body and team it up with any blazer and it will give you the perfect style chic look. You can also wear your dress on it as its seamless material would not add that extra pounds on you. This is the beauty of this thermal underwear for women that it does not bother you at all.
The low neckline of this thermal wear is just perfect for wearing your pretty low neckline dresses without even shivering in the cold.
Key Features
Available in different colors like black, apricot, red, gray, white and purple.
Made up with a combination of material consisting 95% modal and 5% spandex.
Size available are from XS (o, 2, 4, 6) to Large (12, 14).
4). Rocky Women's Smooth Knit Thermal Underwear Set
Thermal underwear for women comes in a complete set by Rocky Women. The long sleeved top and fleeced lining bottom is made with a unique combination of cotton and polyester to keep you cozy and warm. It is really lightweight but would not let you feel cold at all.
Rocky Women's thermal underwear for women would burst your bubble of the thought that only thick clothes can protect you from cold. Its thin material will make you to rethink over your entire old concepts.
The thermal knit of the material helps in retaining the heat of the body and saves it from being lost in the environment. It is even perfect to use it as athletic wear in winters. Its stretchable and breathable material would keep you going in hiking, skiing, or other activities.
The waist band is made up of thermal resistant elastic material. The neck is crew cut and completely covers your upper part. Customers are required to buy them in a set and no separate items are available for sell.
Key Features
Comes in a large variety of more than 15 types of colors.
Some of the colors are hot pink, black, purple, white, red, royal blue etc.
Comes in the combination of material which consists 55% cotton and 45% polyester.
5). Fruit of the Loom Women's Thermal Underwear Top
This is one of the most famous brands that we are listing here in thermal underwear for women. Fruit of the loom basically usually offers women's thermal underwear top. However, you can also buy bottoms separately.
It is available in some of the really beautiful and feminine colors and patterns. You would not even feel like wearing it inside your clothes. They are so trendy and cool that you can wear it casually too.
Don't worry if you are feeling really hot in it, because the moisture wicking technology will keep you dry and comfortable. It retains the body heat to keep you warm and does not let the cold atmosphere affect you.
The cotton material is soft and it does not even shrink after washing. This thermal underwear for women is soon going to become your best friend for next winters. Available in every shape and size.
Key Features
It is made up of the clothing material which consists 80% polyester and 20% cotton.
Available in various beautiful and bright colors with different patterns.
Some of the colors are arctic white, black, gray and designs are green camo, pink tiger print, and light grey heather.
6). Women's uYes Thermal Underwear Top & Bottom Set
Thinking about buying a complete set of thermal underwear for women? Well, look nowhere else and just grab this product before it goes out of stock. The thermal underwear for women by uYes uses premium technology to give you the best of their outcome.
It offers you the perfect quality thermal wear that you have always longing for. If you live in an area where it is cold throughout the year then it becomes necessary to wear thermals all day long.
This is the reason that you should pick the thermal underwear for women by uYes. It does not shrink after wash and compatible with machine wash too. It is stretchable and comes with round and low neckline so that you can team it up with your favorite dresses.
It is quite thin but does not fail to keep you warm. It's seamless fitting would not make you look like you have gained some weight. However, you cannot buy them separately and they are available in a set only.
Key Features
They are available in a size range of small to XXL.
Available in different colors like red, blue, black, light orange, purple etc.
Quite affordable and a blend of best warm materials.
7). Moet Fashion Women's Ultra Soft Long Johns Thermal Underwear Set
The next we have in this list of thermal underwear for women is ultra-soft long johns thermal wear set by Moet Fashion. This product comes in an entire set of top and bottom which are made up of super soft polyester. It also has spandex which makes it easy to stretch.
You can either wear it to add some extra layer in your winter clothes or just wear this thermal wear only at home. This looks stylish and would not seem as if you are wearing a body suit.
The material used for making this thermal underwear for women comes with four way stretch and comfortable fitting. The clothing is breathable and soaks moisture and does not let it stick to your skin. It is advisable by the manufacturer to go for one size up than yours as they produce small sizes.
These thermal underwear set by Moet Fashion are perfect for indoor and outdoor activities. So, you are comfortable to wear them anytime you want.
Key Features
Available in sizes from L to XXL.
Some of the colors offered by the manufacturer are green, purple, pink, white, bronze etc.
Made up of two different material which consists 92% super soft polyester and 8% spandex.
8). Ruthy's Apparel Women's Top & Bottom Thermal Underwear Set
Ruthy's Apparel is one of the leading manufacturers of thermal underwear for women. They make really soft and comfortable clothing items for winters at a really low price. The quality of this women's top and bottom thermal underwear set is unmatchable to other products.
The packaging comes with two pieces (one top and one bottom). Both are comprised of fleeced lining and a material which will keep you warm enough in the cold and harsh winters.
As far as comfort is concerned, the material is super soft and does not harm your skin at all. It's skin friendly material also does not stick to your skin and gives a seam less fit. You can wear these beautiful thermal underwear for women along with trench coats and it would give you a stylish look.
The leggings are fleeced lined and the top is a crew cut from the neck. Ruthy's thermal underwear set is available in every size.
Key Features
It comes in beautiful colors like white, cream, black, blue, dark brown and dark gray.
Not suitable for machine wash.
Not so bulky with smooth texture of the clothes.
9). LANBAOSI Women's Seamless Top & Bottom Thermal Underwear Set
If you want to buy such thermal underwear for women which are seamless and perfect fit then you can go for LANBAOSI thermal wear set. It is made up of comprising three wonderful materials of modal, cotton and spandex in perfect amount.
The material is stretchable and lets your skin breathe. The neckline is scoop so it is perfect to wear them under low neckline dresses and tops. You can also wear them alone without any additional clothing as they do not look like a body suit.
Quite seamless and single waffled that does not affect the fit of your other clothes. This thermal underwear for women is just the perfect option to fight the chilly winter this season. You would not regret buying this product for sure.
There are various colors and patterns available for this underwear set like coffee, black, light purple etc. The product is free size and can be worn by anyone.
Key Features
The material used in making are Modal, Cotton and Spandex.
Top size is Length 22″, Chest 25″, and Sleeve 21″.
Bottom size is Length 33″, Waist 16″-28″, Hip 22″-30″.
10). Just Love Women's Thermal Underwear Set
The final and one of the highly efficient option in this list is thermal underwear for women by Just Love. It offers you a complete set of the thermal wear with so many cute colors to pick from. Just Love's products really love your body and cares for it like a baby.
The skin friendly material does not harm your skin and remains ultra-soft on it. This is just the perfect option for you to beat the chilly winter season like a pro. This can be your personal body heater all day long.
Do not worry if you are prone to sweating more. Its moisture wicking material would not make you feel uncomfortable at all. Its seamless material allows you to wear your regular clothes on it without even making you look bulky or shabby. This thermal underwear for women is just the perfect solution this winters.
These underwear are available in set only and no separate purchase is allowed. The material is also not made up of see through material which means good quality promised.
Key Features
Available in beautiful colors like white, coral, lime, pink, purple etc.
Size varies from XS to XL.
Made up of blend of materials like Polyester and cotton (60% cotton and 40% polyester).
| | |
| --- | --- |
| Also see | |
Conclusion
I hope you must have liked our picks about the thermal underwear for women in this section. They are warm comfortable and most importantly they are affordable and easily available too.
The best part about them is that they stick to your body and gives you the much needed warmth. They do not make you look fat and shabby and keeps you presentable all day long. You can wear them on daily basis. They are ready to use again once you wash them.
Ladies, it is really important to choose the right product for yourself. Pick something which completely embraces your body and keep it safe from cold winter waves. Do not get stuck with heavy blazers, go for these seem less thermal wear and enjoy your winters like its summer.