Youth leader dies amid Venezuela poll violence – A youth opposition leader has been killed in demonstrations against a vote in Venezuela which protesters say is rigged.
Ricardo Campos, 30, a regional secretary for the youth opposition party Democratic Action, died in the northeastern town of Cumana.
The country's prosecutors' office said the circumstances were still to be investigated but an opposition parliamentarian, Henry Ramos Allup, said Mr Campos was shot dead.
:: Vote or lose your home: Venezuela's 'illegal' election
In the capital Caracas, a number of police officers were injured after an explosion during an anti-government protest, according to a witness.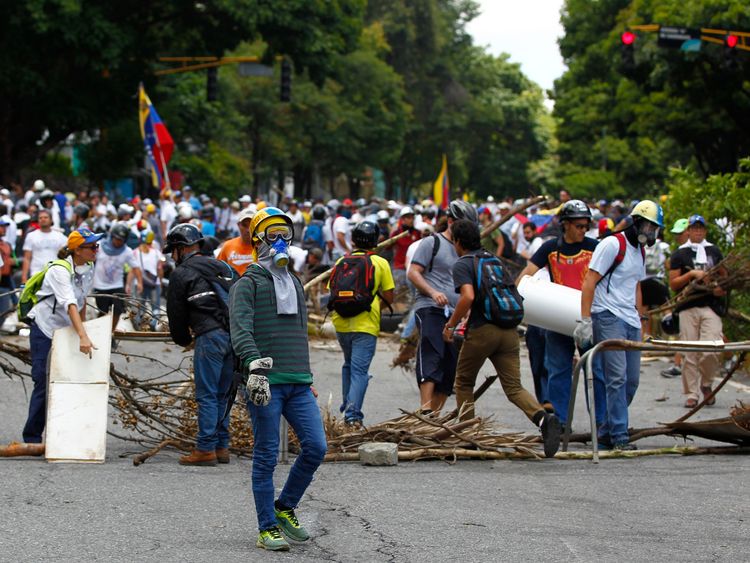 Venezuelan soldiers have been firing rubber bullets and tear gas at protesters blocking a highway.
The protests follow claims President Nicolas Maduro will use the result of the Constituency Assembly election to crush dissenters and tighten his grip on power.
The violence is over the president's aim to rewrite the constitution.
The demonstrators in Caracas – some wearing masks and carrying Molotov cocktails – clashed with National Guard troops in an upmarket district of Santa Fe.
"We are here as pure resistance, against the process happening today against the constitution. The people are not going to give up the streets until this awful government goes," one 54-year-old militant, Carlos Zambrano, said.
"We will remain fighting until Maduro leaves," he vowed.
In the western Caracas neighbourhoods of El Paraiso and Montalban, residents said soldiers burst into apartment buildings looking for demonstrators.
Journalists trying to report on what was happening in El Paraiso were set upon by soldiers who told them to leave.
One man in uniform told them: "Get out of here before s*** falls upon you."
Authorities confirmed there had been two deaths during the protests on Saturday, including a candidate to the assembly who was killed during a robbery, while the opposition put the number killed in Saturday's protests at five.
Elsewhere, streets in Venezuela have been largely deserted with just a trickle of people heading to vote in the widely criticised elections.
Opposition parties are boycotting the election, claiming Mr Maduro will use its result to crush dissenters and tighten his grip on power.
The president cast his ballot earlier in Caracas.